OSE has extensive experience working with glazing companies to install glass windows, our specialized state of the art glass lifting attachment is suitable for lifting and moving of large-format glass panels in combination with one of our mini cranes or larger cranes if required.
In addition to a range of specialized lifting & rigging equipment such as spreader bars, lifting frames & lifting attachments OSE will work with you to develop custom lifting attachments and rigging design to make sure no matter how difficult the lift it will be done safely and without damage to the item. For more info on Lift studies, rigging designs, JSA's, Custom lifting attachments please contact us to discuss.
OKTOPUS® – GL-CC777600
Description:
Crane attachment for use on construction sites

mounting both at the crane hook and directly at the crane arm possible

2 independent vacuum circuits, each vacuum circuit with dual safety system and integrated reserve vacuum

Integrated gauge for monitoring the vacuum and power supply

Optical and acoustic alarm signals deviations of the set conditions

Batteries attached on the lower end of the crane arm supply the vacuum unit with electric power

Electric actuators for a precise, stepless rotating (95°), swivelling (±40°) and tilting (120°) of the load

Activation of the rotating, swivelling and tilting cylinder as well as all pneumatic functions by radio remote control

Extension arms also permit handling
Hinowa Goldlift 14.70 selfpropelled tracked platform, powered by 230 Volt / Petrol, workingheight 14.00 meter and a max. outreach of 7.00 meter. The machine weighs 1700 kg and has a liftcapactity of 200 kg. Ideal for working at small spaces or narrow entrances.
Hinowa – Self Propelled Tracked Platform Goldlift 12.55-14.70

Description:
Crane attachment for use on construction sites

mounting both at the crane hook and directly at the crane arm possible

2 independent vacuum circuits, each vacuum circuit with dual safety system and integrated reserve vacuum

Integrated gauge for monitoring the vacuum and power supply

Optical and acoustic alarm signals deviations of the set conditions

Batteries attached on the lower end of the crane arm supply the vacuum unit with electric power

Electric actuators for a precise, stepless rotating (95°), swivelling (±40°) and tilting (120°) of the load

Activation of the rotating, swivelling and tilting cylinder as well as all pneumatic functions by radio remote control

Extension arms also permit handling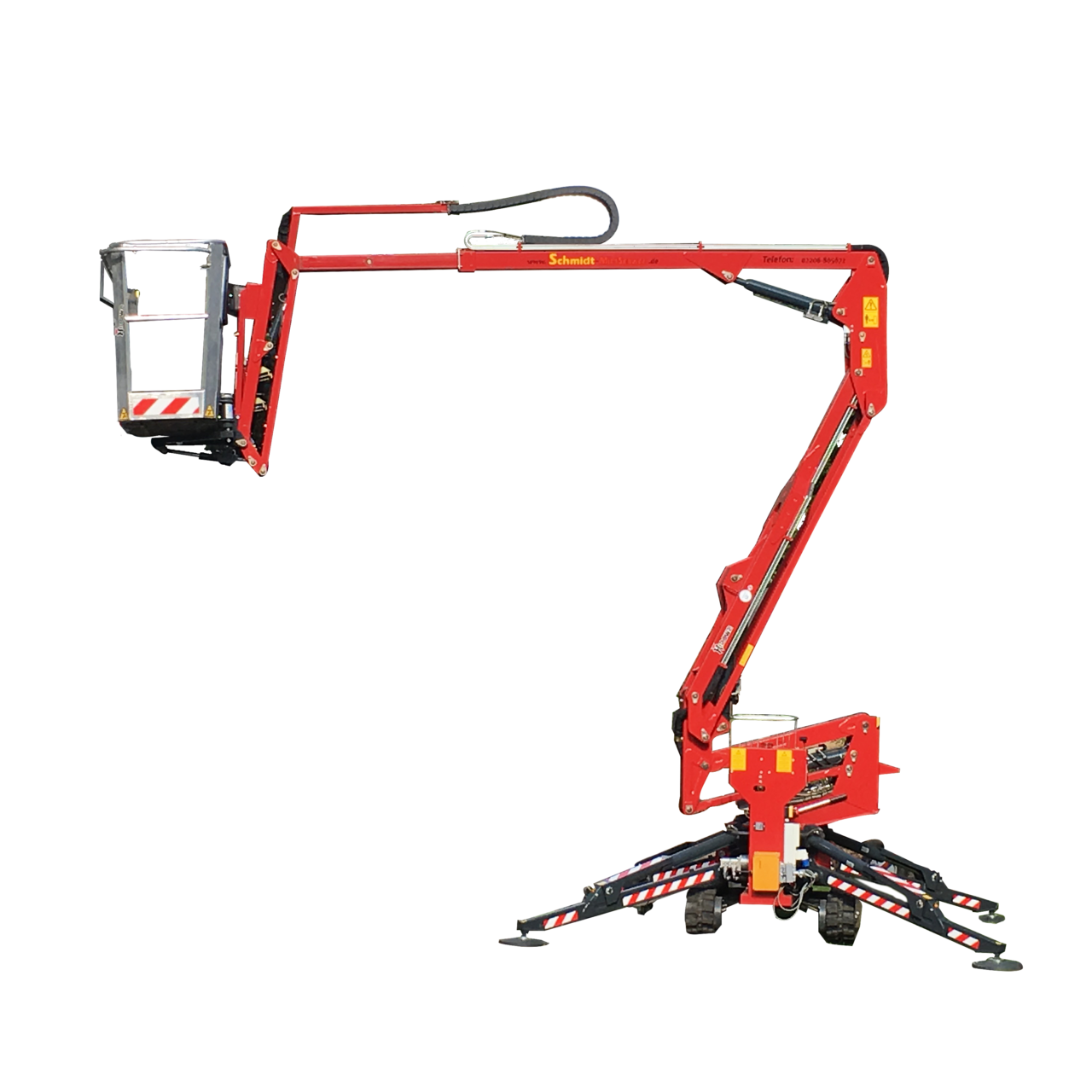 Mini Cranes / Crawler Cranes